June 21, 2021 | Longship Cellars
Summer Wine Club Release + Midsummer Festival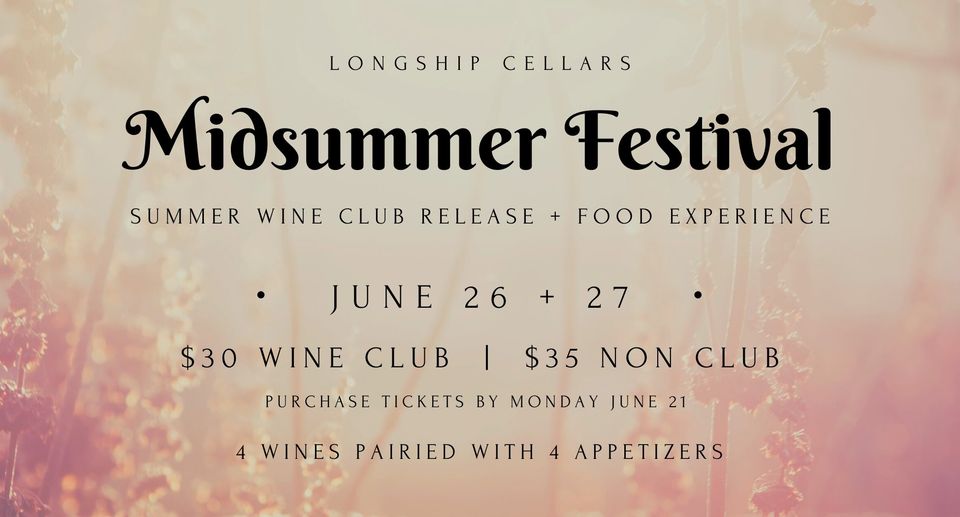 We are happy to announce the 2021 Midsummer Festival + Summer Wine Release happening June 26 + 27 at our production facility at Horn Rapids! This year's Festival will be a wine and food pairing experience you won't want to miss! We're releasing four new wines and pairing each with an incredible appetizer (check out the delicious menu below)! Tickets must be purchased by MONDAY JUNE 21st. $30 Wine Club | $35 Non Club. PURCHASE TICKETS HERE.
This year's Festival is a ticketed/seated event with an hour and a half for you to enjoy the wine and food pairings (Club Members can pick up their club release). Ticket price includes 5 wines (2oz of each), an appetizer pairing with each new wine and a commemorative wine glass to take home. If you'd like to sit with other club members attending the same time slot, please indicate their names when purchasing your tickets and we'll seat you at the same table. Community seating is also available if you'd like to be seated with new friends. Tickets must be purchased by Monday, June 21st. After purchasing you'll receive an email with your tickets and event details. We'll be releasing the 2018 'Pet Cheetah' Grenache, 2019 'Runestone' Red Blend, 2019 'Only One' Cinsault and 2019 'Ginger Man' Syrah.
If you are a Wine Club Member and don't plan to join us at Midsummer, you can pick up and sample your Wine Club Shipment at the Tasting Room starting on June 23rd.
WHEN: June 26th + 27th (see available time slots below)
WHERE: Longship Cellars at Horn Rapids - 2412 Henderson Loop, Richland
TICKETS: $30 Wine Club | $35 Non Club. Purchase online HERE or at the Tasting Room
EVENT TIME SLOTS
Saturday June 26th - 12:00 - 1:30 | 2:00 - 3:30 | 4:00 - 5:30
Sunday June 27th - 2:00 - 3:30 | 4:00 - 5:30
M I D S U M M E R M E N U
2019 'ONLY ONE' Cinsault Beet & Raspberry Salad with lemon herbed vinaigrette, candied pecans, goat cheese, mixed greens, mint & beet micro-greens
2018 'PET CHEETAH' Grenache Short Rib Taco - short rib braised in Longship wine, house made chimichurri, pickled red onion slaw, cilantro on a corn tortilla
2019 'RUNESTONE' Red Blend Pasta Puttanesca, rustic olive & tomato sauce on pasta with fresh basil
2019 'GINGER MAN' Syrah Duck Confit & Waffle with a blackberry serrano maple syrup
Comments