February 1, 2021 | Longship Cellars
Let's Get Weird - Wine & Chocolate Pairing :: February 11-14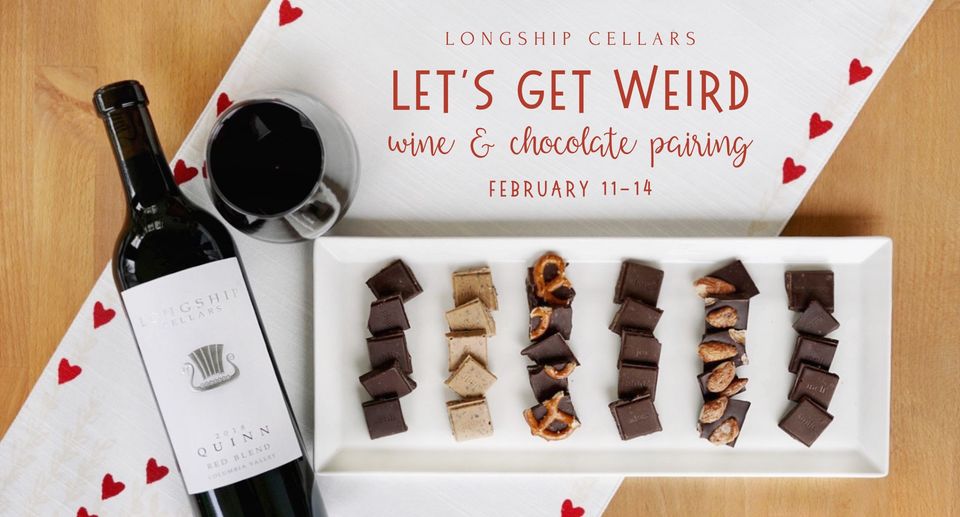 Get your hearts ready for LET'S GET WEIRD Wine & Chocolate Pairing February 11-14! A Valentine's pairing experience that will make your heart melt, if not implode! We're talking Bacon, Potato Chip, Spicy Maya and more - all infused in delicious chocolate. We'll be pairing 6 Longship wines with 6 epically-flavored chocolates. Grab your sweetheart, your besties or just bring yourself and we'll be your valentine. Inside 'open air' and heated Patio seating is first come first serve but you can call before you head down and we'll save you an open table. We will be offering a limited food menu during the event. Take Home and Groups Kits are also available (see details below).
♡ THUR Feb 11th, 2-8 // FRI Feb 12th, 2-8 SAT Feb 13th, 12-8 // SUN Feb 14th, 12-5 ♡
$15 Per Person $12 for Wine Club Members
. . . . . . . .
♡ TAKE HOME KITS 2oz of each of the 6 wines (total of 12oz) plus chocolates to pair with each. Serves 2 people. MUST be Pre-Ordered by phone at 509.727.3015 or online here. We recommend drinking through your mini bottles within 5 days of pick up. $32 - Regular // $28 - Wine Club
♡ GROUP TAKE HOME KITS Have a group of 8 or more people? We have a take home kit that includes one whole bottle (25oz) of each of the 6 wines. Plus chocolate for 8-12 people (additional chocolate can be added for more than 12 people). Can be purchased at the tasting room or online here. $216 - Regular (10% savings on bottle price) $182 - Wine Club (25% savings on bottle price)
♡ TAKE HOME AND GROUP KITS available for pick up February 11-14 and can both be shipped. Wine Include: Syrah, Merlot, Tempranillo, Red Blend, Petite Sirah & Cabernet
Check out the Facebook Event here.
Comments