May 12, 2021 | Longship Cellars
Cereal & Wine Pairing :: May 20-23 + 27-30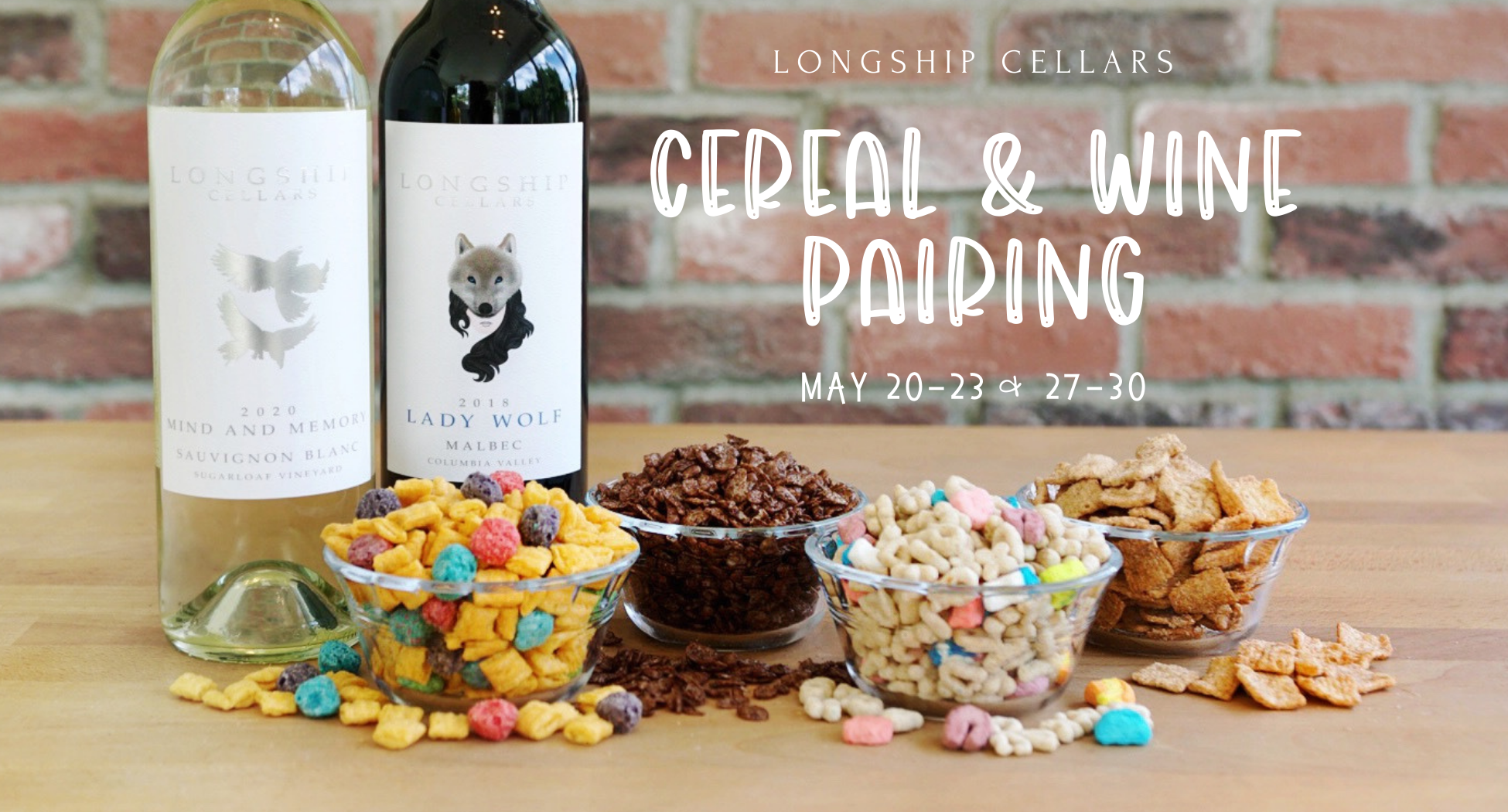 We're taking a walk down memory lane and pairing some of our favorite childhood cereals with some of our favorite wines! I mean who needs milk when you have wine? ;) Join us for Cereal & Wine Pairing May 20-23 AND 27-30 at the Tasting Room. We're pairing 6 wines with 6 iconic cereals. Want to enjoy the pairing at home? Pre-Order our Mini or Group Kit by phone or online here (check out all the details below). If you join us at the Tasting Room seating is first come first serve but you can call/text 15-30 minutes before you come and we'll save you an open table. Thursday 4-8, Friday 2-8, Saturday 12-8 and Sunday 12-6. We'll also have a Gluten Free pairing available!
PAIRING AT THE TASTING ROOM
May 20 - 23 + May 27 - 30 • $15 Per Person // $12 Wine Club THURSDAY 4-8pm, FRIDAY 2-8pm, SATURDAY 12-8pm, SUNDAY 12-6pm Check out the Facebook Event here.
TAKE HOME KITS
2oz of each of the 6 wines (total of 12oz) plus cereal to pair with each. Serves 1-2 people. Kits MUST be Pre-Ordered by phone at 509.727.3015 or online here. We recommend drinking through your mini bottles within 5 days of pick up. $32 - Regular // $28 - Wine Club
GROUP TAKE HOME KITS
Have a group of 6 or more people? We have a take-home kit that includes one whole bottle (25oz) of each of the 6 wines. Plus cereal for 6-12 people. Pre-Order by phone or online here. $190 - Regular (10% savings) // $160 - Wine Club (25% savings)
TAKE HOME AND GROUP KITS are available to Pre-Order for pickup May 20-23 & May 27-30 and can both be shipped. Wines include Sauv Blanc, Chardonnay, Malbec, Red Blend, Cabernet and Tempranillo.
Comments