June 6, 2022 | Longship Cellars
Midsummer Festival + Summer Release
You are happily invited to our 2022 Midsummer Festival + Summer Wine Club Release on Saturday, June 25th at our Winery at Horn Rapids! Join us to celebrate the solstice with the release of 4 new wines, each paired with a delicious small bite prepared by Tap + Barrel, plus we'll have Live Music from Jamie Nasario! While not a seated event this year, tickets are limited so make sure to snag yours soon. Tickets must be purchased by Sunday June 19th and include 5 incredible wine and food pairings and a wine glass to take home. Wine Club Members will be able to pick up their Club Release at the event. Check out all the party details and the menu below.
WHEN :: Saturday June 25th 1-5pm
WHERE :: Longship Winery at Horn Rapids :: 2412 Henderson Loop Richland, WA 99354
TICKETS :: $40 per person for Wine Club Members // $50 for Non Wine Club
Tickets are limited and must be purchased by Sunday June 19th
IMPORTANT CLUB RELEASE INFO
The Tasting Room will be closed Saturday June 25th for Midsummer. Wine Club Members who are unable to join us at the Festival can pick up their shipment and sample the new wines at the Tasting Room starting Sunday, June 26th. Members will be charged for the Summer Release on Monday June 20th and must be picked up by August 26th. Wines not picked up within 2 months will be shipped at the expense of the member.
SUMMER WINE CLUB RELEASE
2019 'Wise Man' Cabernet Sauvignon || 2020 'Only One' Cinsault
2020 'Ginger Man' Syrah || 2019 'Pet Cheetah' Grenache
Purchase Tickets HERE
Check out the Facebook event HERE
We can't wait to share these new wines with you!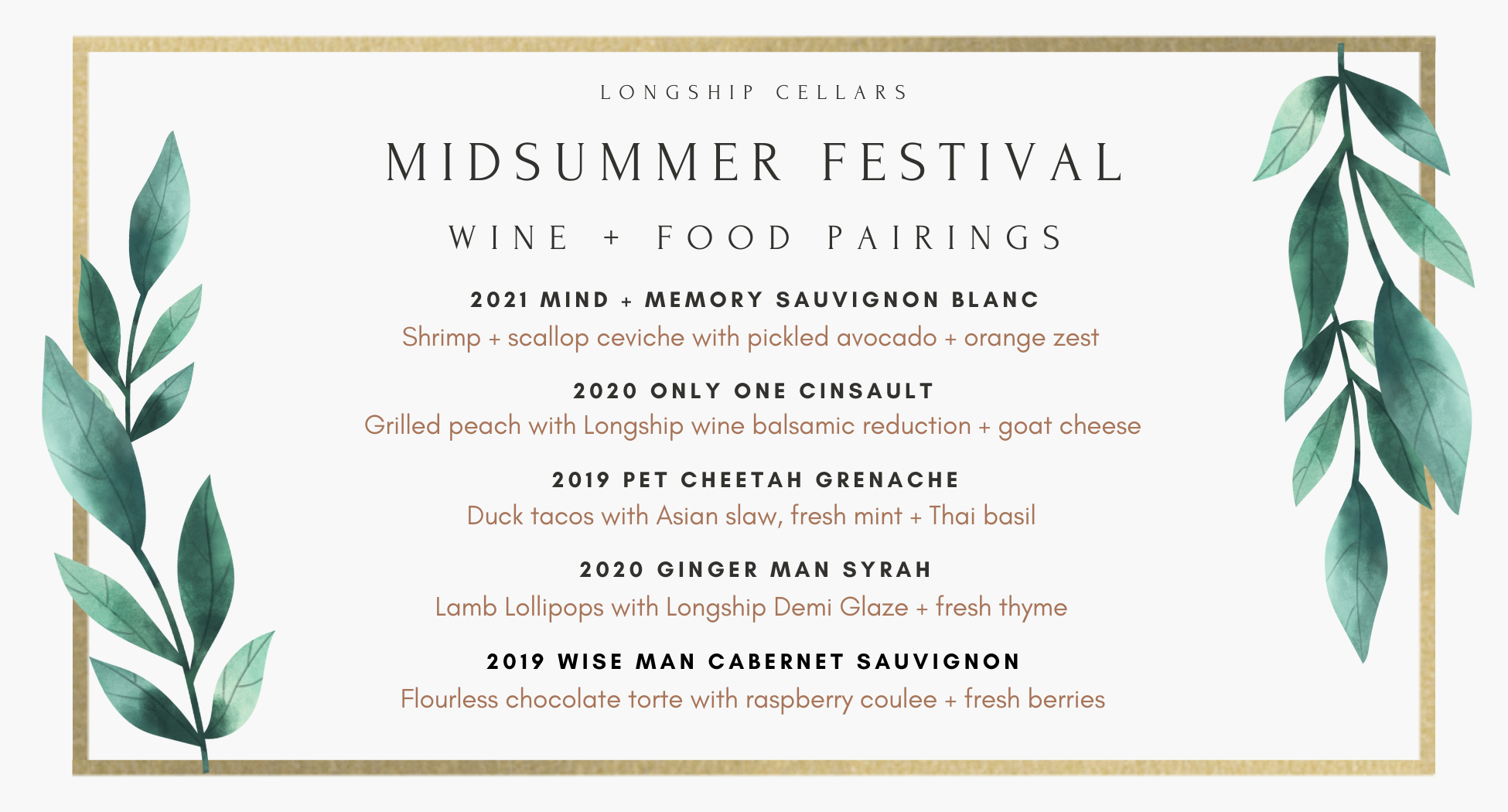 Comments