April 26, 2023 | Longship Cellars
Albariño, Chardonnay, Riesling + Rose Wine Release :: April 29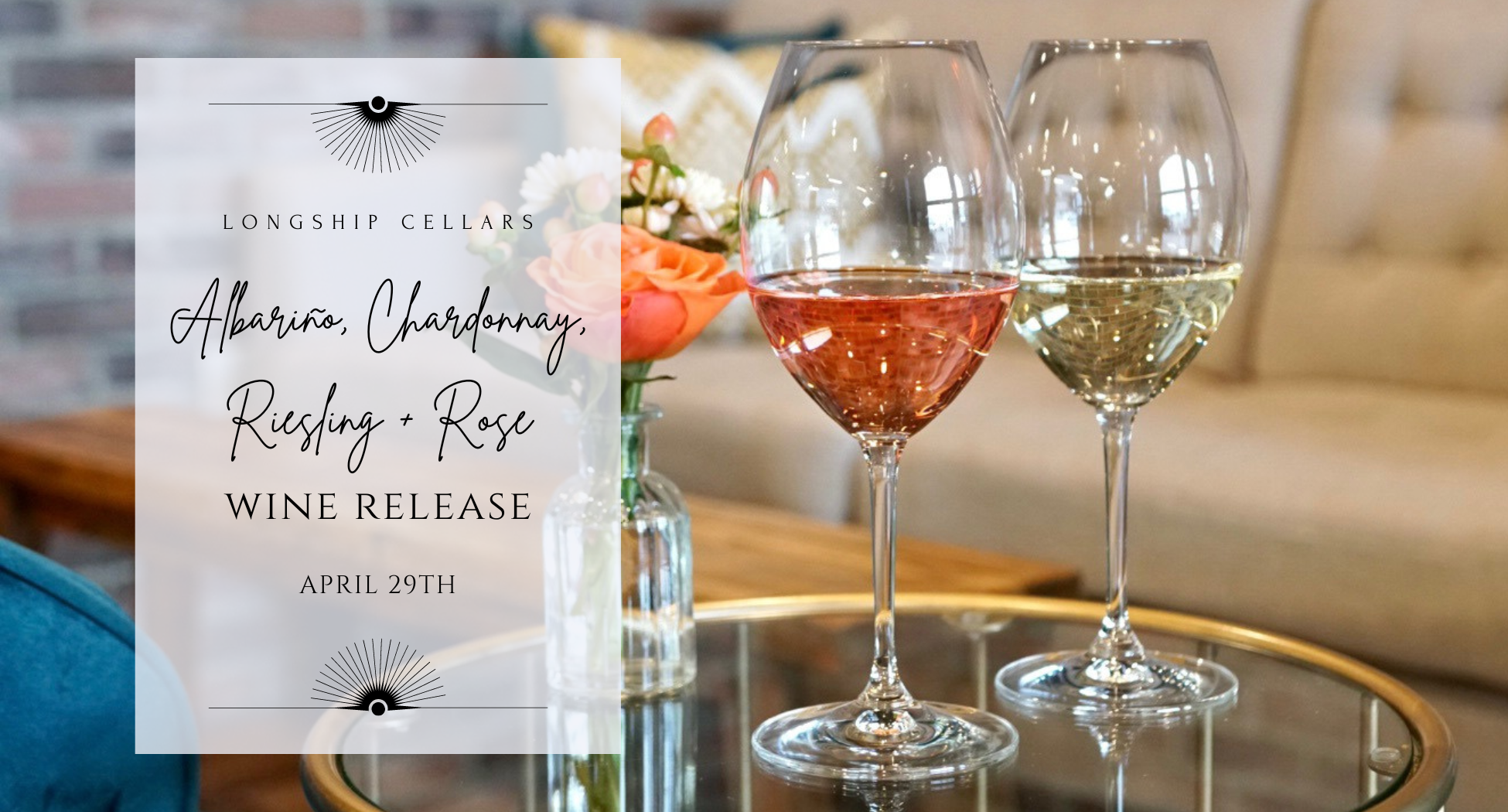 We're excited to announce the release of four new wines happening THIS weekend! Join us Saturday April 29th as we share our NEW 2022 Albariño, 2021 Chardonnay, 2021 Riesling and 2022 Rose! We can't wait for you to try these wines! And just in time for warmer weather. Inside + Patio seating is first come first serve but you can call 30 minutes before arriving and we'll save you an open table, 509.713.7676. Saturday April 29th, 12-8pm
WINE CLUB MEMBERS :: These new wines are not included in a regular Club Allotment but are available to purchase at your discounted member price.
2022 'ROCK BITER' Albariño
ROCKY REACH :: 100% Albariño
Fun aromas + flavors of pineapple, banana, nectarine + white peach. The palate is viscous + vibrant with flavors of fresh squeezed lime juice + hints of grapefruit. A refreshing + juicy finish with lingering tropical notes + subtle minerality.
Purcahse Albariño
2021 'LUCK DRAGON' Chardonnay
YAKIMA VALLEY - SUGARLOAF :: 100% Chardonnay
Intoxicating aromas + flavors of butterscotch, grilled pineapple, coconut + fresh apricots with hints of vanilla latte + macadamia nuts. Subtle flavors of fresh baked pear cobbler + lemon zest lead into a silky finish with mild minerality.
Purchase Chardonnay
2021 'STEEL DRAGON' Riesling
ROCKY REACH :: 100% Riesling
Flavors + aromas of honeycomb, fresh honeydew melon, hibiscus flowers + lemon lime with tropical flavors of guava + mango. Hints of vanilla bean mingle with green apple leading into a lingering finish of citrus zest + beautiful stony minorality.
Purchase Riesling
2022 'WILD HARVEST' Rose
YAKIMA VALLEY - SUGARLOAF :: 100% Syrah
Fresh strawberries, passion fruit + pomegranate dominate the palate with hints of watermelon, rose petals + wet slate. Juicy + refreshing on the palate with citrus zest + acai berries.
Purchase Rose
Check out the Facebook event HERE.

Comments